In the previous blog post we looked at some English idioms. Here are a few more.
A ballpark number
A very inexact number, a rough estimate.
A bed of roses
A comfortable, happy, trouble-free position or situation.
A piece of cake
Something that is easy to do.
Back to square one
Having to start from the beginning again because your previous attempt failed.
Bark up the wrong tree
Do something in a wrong way, take a wrong approach, make the wrong choice.
Break a leg
This idiom is used to wish someone good luck. It is said that actors are superstitious and that they do not want people to say 'good luck' to them, because then the opposite might happen. The idiom probably comes from the German Hals- und Beinbruch (break your neck and legs).
Bring home the bacon
Earn money for one's family.
Call it a day
Decide to stop doing something, especially when you are tired or bored.
Cost an arm and a leg
Be extremely expensive.
Cry wolf
Warn that there is a problem when there is none. If you do that too often, people will not believe you when there really is a problem.
Cut corners
Disregard the right procedure in order to save time or money, so that the result is bad quality or even illegal.
Cut to the chase
Get to the point without wasting time. The idiom is said to have come from the film world. Films often ended with a dramatic chase scene. Some screenwriters created unnecessary scenes that bored the audience. When a director said 'Cut to the chase', it meant 'Skip the uninteresting stuff and go straight to the final scene'.
Face the music
Accept responsibility or unpleasant consequences of what you have done.
Hit the sack/Hit the hay
Go to bed.
Hold your horses
Slow down, be patient.
In the red
When you are in the red, you are in debt, you lose money. Accountants used red ink when recording business losses. The opposite expression in the black of course means 'be solvent, have enough money'.
It ain't over till the fat lady sings
Don't be too sure that you know what the outcome will be. The idiom refers to opera. When the soprano (and in the old days sopranos used to be pretty voluminous) has sung her final aria, we know that the whole thing is over.
Let the cat out of the bag
Reveal a secret, often without intention.
Like a bull in a china shop
This idiom is used about people who rush into a situation without thinking and clumsily destroy things in their way. It is also used figuratively about a person who is insensitive to other people's feelings and says or does things that hurt them.
On the ball
Be alert and able to react quickly, be competent.
Pull someone's leg
Make somebody believe something that is not true.
Put the cat among the pigeons
Say or do something that worries people or makes them angry.
Red tape
Rules or routines that are complicated and lead to delays or obstructions; bureaucracy.
Smell a rat
Suspect that something is wrong.
Spill the beans
Unintentionally reveal a secret.
Straight from the horse's mouth
Information directly from a reliable source, from someone who has personal knowledge.
Take a back seat
Become less active or involved.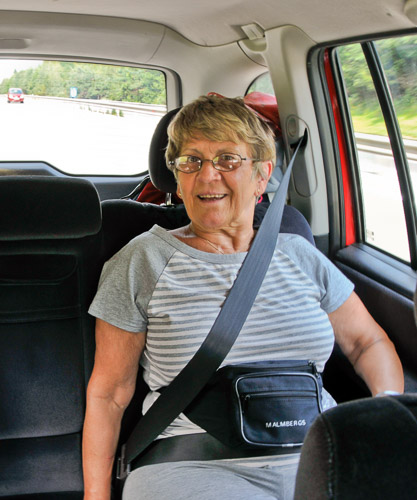 The elephant in the room
A problem or controversial issue that everybody in a group is aware of but nobody wants to talk about because it would be uncomfortable or embarrassing.
Through thick and thin
If you stay with someone through thick and thin, you do so for a long time even if there are difficulties.
Under the weather
Feeling a bit ill or sad.