What's the difference between He plays football and He is playing golf?
The person we are talking about is obviously a professional footballer, but right now he is active on a golf course.
In English there are two ways of expressing an action in the present tense: the present simple and the present continuous.
Present simple
We use the present simple when we talk about
– a permanent (or nearly permanent) situation:
My uncle lives in Spain.
He works as a tourist guide.
– what we do regularly, habits:
Her brother collects rare books.
I drink black coffee in the morning.
– what is always true:
Water boils at 100 degrees Celsius.
A Tesla coil produces high-voltage electric pulses.
– what happens in a book or a film:
The two friends plan a robbery.
At the end she marries a millionaire.
Present continuous
We use the present continuous when we talk about
– things that are happening just now:
The water is boiling, so you'd better find the teabags.
Look, it's raining!
– a temporary situation:
My uncle is staying at a small hotel during his visit to Paris.
He is practising his French.
– temporary or annoying habits:
I'm spending too much time on Facebook these days.
Mum is always complaining about the mess in my room.
– what we see in a photo:
Here we are waiting for the limousine.
The children are waving to grandma from the balcony.
To sum up:
Use the -ing form when you write about what is going on temporarily and the simple form when you write about what happens regularly.
The same applies to the past:
Past simple
My uncle worked in a bookshop.
I ran to school every morning.
Past continuous
They were running to catch the train.
What were you doing at seven o'clock last night? I tried to call you.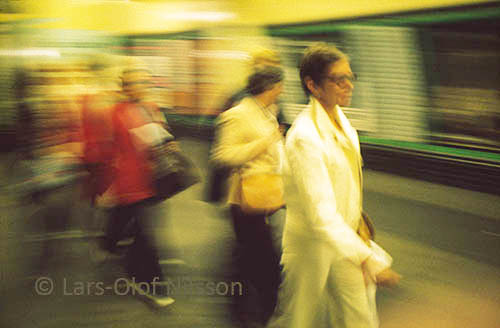 Often past simple and past continuous are used in the same sentence to say that something happened in the middle of something else going on:
I was having breakfast when the doorbell rang.
When Susan came home, her husband was cooking dinner.
In the last example, her husband had started cooking before Susan came home. If he started cooking after she arrived, we would say
When Susan came home, her husband cooked dinner.
So, to say They are making cars would suggest that the activity is only temporary. Production in a car factory is a long-term activity, and therefore we must write They make cars.
Non-native writers of English may tend to overuse the -ing form. Read more here.